I want to start off this email with answers to a few questions!
Wait, are you close to a transfer yet?
The next transfer is April first. Hope it turns out to be April fools, and that I wont be going!!! But I've been here in Veszprém for four months and it looks like I'll be leaving!
Yeesh, will that be hard?
Of course!! We have some really progressing investigators that want to be baptized but haven't committed to a specific date yet. I probably will miss their baptisms. Of course, that's not the only reason I would want to stay! Veszprém is really pretty, and I love this city, and the ward here is really strong, and the work is forecasted to really go up after the open house / missionary night at the open house. Also I just don't want to go!
Do you go over to members houses much?
Not really. There's one family that has us over for lunch ever week, which is actually super amazing, and we go over to another lady every week who is half-paralyzed from a stroke and give her the sacrament. We are also always trying to set up with less active members, and there are a couple that we visit regularly and invite to come to church.
What are they like inside?
We are not just inside member houses, but we get quite a few let ins while tracting on a really good day. Most of the people we visit live inside these 10 story cement apartment buildings from the communist days, like the fifties or sixties, and they are super tiny.
From Google image search




But it is amazing how different each of them are decorated, even though they all have the same layout. One lady has all the doorways and furniture redone in fancy hardwood, and super fancy floral wall paper, with beautiful dark green velvety furniture. We have no idea how she got all this stuff into that apartment. This is an exception! Another guy we tracted into had all these crazy colorful patterns painted on the walls. Most people have tooons of potted plants.
Do they have little grocery stores everywhere?
Usually, no matter where you are, you can reach a PennyMarket, Aldi, Spar, or Lidl within three to five minutes by foot.
PennyMarket and Spar are the Most common, at least in Veszprém.
What type of table do you set up for tabeling?
This tiny lawn table with detachable legs.
Do you have to carry it on the bus or do you set it up outside of your apartment?
We live in the Belváros, which is kind of like downtown-old city area, and there is a big walking street two minutes from our house. We carry the table there.
___________________________________________________________
So, this morning we went to Zirc (pronounced zeertz).
I have really wanted to got there, since before I got into Hungary actually, I we finally went. We were going to go hiking, since it's in the hills the middle of the Bakony forest (pronounced somewhere in between Bah-coin and Bah-cone-yuh).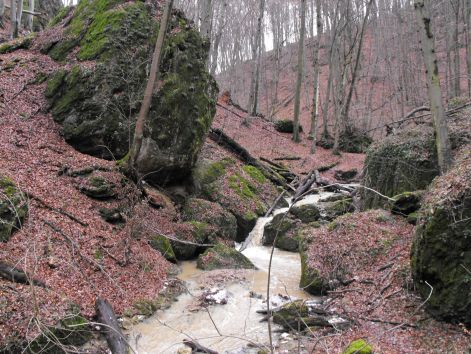 Picture of the Bakony Forest from a Google Search
But the first trail we went to was super muddy. So we just played a little bit of 2 on 2 ultimate frisbee in a field and took pictures and stuff. We saw this beautiful Catholic abbey, which has a museum in it that I want to go back and visit some time. You could see the abbey nestled in between the hills surrounded by the town from a distance, with the two huge spires really catching your attention. It was really pretty.
Picture from Google Search
This week when we were tracting we ran into some pretty cool people, as usual!
One lady we tracted into we were able to set up with again and had a lesson with her about the restoration, and we could feel the spirit really strongly. She was really smart and asked really good questions. Hopefully she will have us back -- we got her phone number.
We tracted into this family, which let us in for our little survey :). They said they have a really busy schedule, but they would be open to letting us back some time if there were available to listen to our message. When we opened up our bags to give them a restoration pamphlet, Elder Dellenbach found that he just had Family: a Proclamation to the World pamphlets and for some reason I had Restoration pamphlets in English but not Hungarian -- I have absolutely NNNOOOO idea how that happened- but this was probably meant to be :) because when we gave them the Family pamphlet and said that it talked about how the church believed in families and then bore our testimonies about the family.
https://www.lds.org/ensign/2006/06/the-family-a-proclamation-to-the-world?lang=eng
We also tracted into this older man who lived in England for like 40 years or something and spoke English with us. He really wasn't interested in our message, but he thought English class looked interesting -- "I practice faith me own little way, but maybe I can have me wife look into this 'ere English class."
The mission president came to the Veszprém branch
on Sunday
to have an interview with an investigator, which was successful! President and Sister Smith both spoke at the end of sacrament meeting. Sister Smith prepared a talk in Hungarian that she read, and Dellenbach Elder translated for Smith Elnök. We were able to get three investigators to sacrament meeting, which was a first for us.
Have a great week!
Bunker Elder